| | | |
| --- | --- | --- |
| European Information Space: Infrastructures, Services and Applications Workshop (29-30 October 2007) | | Print | | E-mail |


Creating a European Information Space is the objective of several recently launched initiatives. To actively participate in this drive, many institutions are investing increasingly larger efforts to federate their collections of data and documents, and to render them interoperable and sharable with others. These initiatives are motivated by a common aim to facilitate access to comprehensive information. The realization of a European Information Space will advance the scientific and business processes that lead to the generation of new knowledge.


The trend toward federating information has stimulated many new research and technological challenges. In particular, work completed in the past years has highlighted that the realization and full exploitation of a European Information Space minimally requires the introduction of: (i) appropriate operational infrastructures able to manage the sharing of resources, (ii) new services able to retrieve, access, analyse, process, and visualise the heterogeneous and multi-type collections of information; and (iii) innovative applications that offer enhanced capabilities to scientists and stakeholders by fully exploiting the available information and service resources.

The DILIGENT project has addressed these challenges by combining technologies from different areas, in particular GRID and Digital Libraries, and by experimenting and refining its outcomes in different applications domains. In parallel, many other projects have also achieved tangible results.

This workshop will bring together stakeholders from different domains and representatives of European Commission funded research projects which are contributing to the creation and exploitation of a European Information Space. The aim of the workshop is to provide an overview of the current status of technological and organizational development, to identify common challenges and to discuss new opportunities for exploitation and cross-fertilization among existing initiatives. Our wish is that the workshop will contribute to the transformation of a vision for the future into reality.


Social Dinner

Restaurant
TEMPIO DI ISIDE
Via Pietro Verri, 11
Rome
Tel. 06 7004741

VENUE
The European Information Space: Infrastructures, Services and Applications Workshop will be held from 29 to 30 October 2007 in the Austria Cinema, second Floor, Building C at the FAO Headquarters Complex, Rome, Italy.
FAO is located on Viale delle Terme di Caracalla, close to the Circo Massimo.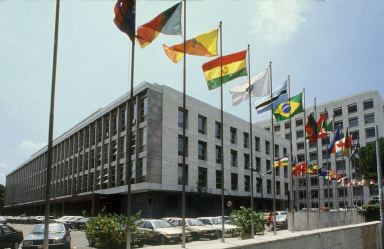 Pass
Participants can pick up their pass at the entrance of the FAO main building upon presentation of a valid document.
Participants are requested to wear their Building Passes at all times, as access to the FAO Headquarters Complex is prohibited to any individual not in possession of a valid Building Pass. Lost Building Passes should be reported without delay to the FAO Security Office.


FAO SERVICES
Bank Facilities
Bank: Intesa San Paolo Bank is situated on the Ground Floor of Building B and operates from Mondays to Fridays (08.35 to 16.30 hours)
Cash dispensers are also available to handle the cashing of convertible currency notes, traveller's cheques, Eurocheques and credit card withdrawls.

Travel Facilities
The FAO Travel Agency "Summertime" on the Ground Floor of Building D (Room D-074) is able to book reservations, as well as confirm travel arrangements. This service is available from 09.00 to 12.45 hours and from 14.00 to 17.00 hours, Monday to Friday.

Postal Services
The Italian Post Office, located on the Ground Floor of Building B (next to the "Intesa San Paolo" Bank) will provide normal services for stamps, parcels, telex, telegrams, faxes, registered mail, change, postal/money orders, etc.. The Post Office is open from 08.25 to 15.00 hours, Monday to Friday.
DHL Courier Service is available for private and official dispatches from 10.30 to 12.30 hours and from 13.30 to 16.30 hours, Monday through Friday (Room C005).

Newsstand
The Newsstand is located on the Ground Floor of Building B near the Intesa San Paolo Bank, and offers a variety of newspapers in numerous languages, a selection of magazines, postcards, maps, and a large selection of periodicals. The News Stand operates from 6:00 until 18:00 hours. For more information, please dial extension: 53273 (Tel: 06-57053273 from outside the FAO Headquarters Complex).

Emergency Telephone Numbers
The following numbers may be useful in case of emergency:
• Medical Emergencies dial 118 or 30
• General Emergencies dial 113
• Fire dial 115
• Ambulance (Red Cross) 06-5510
The FAO Medical Offices are located in room B-165 (first floor building B) and are open between 08:30 and 17:30 hours on FAO working days.

Protecting your valuables
Participants are advised to carry their valuables safely, especially on public transport. There might be pickpockets on the street, the underground and on buses and trams. Once participants have checked into their hotels, it is advisable to leave important documents such as passports in the hotel safe and to carry a photocopy. Identity cards, keepsakes and anything else not needed in the city are best left at the hotel or place of residence while participants are sightseeing, shopping or dining out. Participants should keep photocopies of all these documents in a safe place in case they need to have them replaced. Participants are reminded not to leave briefcases or any valuable items unattended in FAO workshop room.

Lost and Found
Objects found should be handed over either to the Security Desk, Main Entrance, Building B or to the Lost and Found office which is located in Room B-062, ext. 55159 (Tel. 065705-5159 from outside the FAO complex). Any inquiries on lost property or items should be made to this office.

Smoking and Non Smoking Areas
Participants are reminded that FAO Headquarters is a non-smoking area. However, smoking is permitted in the open areas around the FAO complex.



TRANSPORTATION

From the Airport

Taxi
You can take a taxi from the airport to FAO. The cost should be about euros 40.00 (Fiumicino Airport) and euros 30.00 (Ciampino Airport). Surcharge fares are applied for baggage, night runs and on Sundays and holidays. We recommend that you use only authorised taxis (white vehicles with a taximeter) available at the arrivals areas. Do not take offers of taxis in the airport.

Train
When you arrive at the Leonardo da Vinci Airport in Fiumicino, Rome you can take the train to Roma Ostiense Station ("Stazione Ostiense") , which is the closest train station to FAO (10 minutes). The train to Ostiense Station will stop at several stations on the way and the ticket will cost around euros 5,00. Be sure to stamp your ticket when you get on the train at the automatic box.
Also once every 30 minutes Leonardo Express train goes non stop to Termini Station ("Stazione Termini"), Rome's central station. The cost is € 9.50 and the journey takes about 30 minutes. The train departs from and arrives at Termini station runs from 6.37am till 11.37pm.
From the Termini Station you can take a taxi - 15-20 minutes to FAO - or you can take Metro B (blue Line) and get off at "Circo Massimo" .

To get to FAO from Ciampino Airport, take COTRAL bus available every 30 minutes. Ticket costs 1 euro and is purchasable on board or at the authorized desks and get off at Metro A: Anagnina station, to Termini Station. At Termini Sation take Metro B (blue Line) and and get off at "Circo Massimo".
Cotral bus runs every 30 minutes, until 11pm. The only way how to get to Rome after this time is to take taxi.


Metro

The Rome Subway ("Metropolitana") is subdivided in two lines: the red Line A, from Anagnina (in the south-east side of Rome) to Battistini (in the west side of Rome) and the blue Line B from Laurentina (in the south-west side of Rome) to Rebibbia (in the north-east side of Rome).
The ticket costs € 1 and it is valid on bus, trams, subway and local trains The metro runs every few minutes from 5:30 a.m. until 11:30 p.m. (00:30 a.m. on Saturdays).
To reach the venue please get off at "Circo Massimo" Station.



Taxi Service in Rome

Radio Taxi Service can be called at: 06-3570 or 06-4994. Upon calling, the taxi company operator will ask for the caller's telephone number and will give the caller the taxi's identification number (which will be marked on both sides of the car), as well as the estimated time it will take to reach the caller.


ACCOMMODATION
All participants should directly handle their hotel reservations. The Workshop Organizing Committee has contacted various hotels in the centre of Rome to negotiate special rates for the Workshop. Below we provide a listing of these hotels (4 star and 3 star hotels). To receive the reduced rates listed below, please download the
reservation form
and send it back to the hotel of your choice. In addition, we provide the names of two agencies to contact for booking lodging at a "Bed and Breakfast" in Rome. Please note that you should make your reservation directly with the hotel and address all inquiries regarding your reservation to the hotel.
4 Star Hotels

HOTEL MEDITERRANEO

telephone

fax

e-mail

website

Via Cavour, 15
+39 06 4884051 Toll Free 800 860004
+39 06 4744105
http://www.romehotelmediterraneo.it/
Prices in Euro (breakfast included)
Single: 139,00
Credit cards accepted
VISA - CARTASI - MASTERCARD – AMERICAN EXPRESS -DINERS
Bookings should be made by: September 28, 2007


Room availability for the Workshop
Single rooms: 10
Distance from venue:
2.4 kms
Map of Route:
click here to open a new window with a map of the route between the venue (FAO) and Hotel Mediterraneo

---

HOTEL MASSIMO D'AZEGLIO

telephone

fax

e-mail

website

Via Cavour, 18
+39 06 4870270 Toll Free 800 860004
+39 06 4827386
URL
http://www.romehoteldazeglio.it/
Prices in Euro (breakfast included)
Single: 128,00
Credit cards accepted
VISA - CARTASI - MASTERCARD – AMERICAN EXPRESS - DINERS
Bookings should be made by: September 28, 2007


Room availability for the Workshop
Single rooms: 10
Distance from venue:
2.4 kms
Map of Route:
click here to open a new window with a map of the route between the venue (FAO) and Hotel Massimo D'Azeglio

---

HOTEL CHAMPAGNE PALACE

telephone

fax

e-mail

website

Via Principe Amedeo, 82
+39 06 492721
+39 06 44703978

http://www.hotelchampagne.it
Prices in Euro (breakfast included)
Single: 200,00 Double room for single use: 210,00 Double room: 220,00
Credit cards accepted
VISA - CARTASI - MASTERCARD – AMERICAN EXPRESS - DINERS
Bookings should be made by: October 1, 2007

Room availability for the Workshop
Single rooms: 7
Double rooms for single use / Double rooms : 3
Distance from venue:
2.9 kms
Map of Route:
click here to open a new window with a map of the route between the venue (FAO) and Hotel Champagne Palace

---

MERCURE ROMA DELTA COLOSSEO

telephone

fax

e-mail

website

Via Labicana, 144
+39 06 770021
+39 06 77250198

Prices in Euro (breakfast included)
Single: 171,00
Credit cards accepted
VISA - CARTASI - MASTERCARD – AMERICAN EXPRESS - DINERS


Room availability for the Workshop upon availability

Distance from venue:
2.0 kms
Map of Route:
click here to open a new window with a map of the route between the venue (FAO) and Mercure Roma Delta Colosseo

---



3 Star Hotels

HOTEL VILLA SAN PIO

telephone

fax

e-mail

website

Via di Santa Melania, 19
+39 06 570057
+39 06 5741112

http://www.aventinohotels.com
Prices in Euro (breakfast included)
Double room for single use: 135,00
Credit cards accepted
VISA - MASTERCARD – AMERICAN EXPRESS - DINERS
Bookings should be made by: October 1, 2007 – Please refer to Booking nr.39205

Room availability for the Workshop
Double rooms for single use : 6
Distance from venue:
1,5 km
Map of Route:
click here to open a new window with a map of the route between the venue (FAO) and Hotel Villa San Pio

---

HOTEL SANTA PRISCA

telephone

fax

e-mail

website

Largo M.Gelsomini, 25
+39 06 5741917-5750009- 5750469
+39 06 5746658

http://www.hotelsantaprisca.it
Prices in Euro (breakfast included)
Single room: 110,00
Double room for single use: 120,00
Credit cards accepted
VISA - CARTASI - MASTERCARD – AMERICAN EXPRESS - DINERS
Bookings should be made by: September 26, 2007

Room availability for the Workshop
Single rooms: 5
Double rooms for single use : 15
Distance from venue:
1,3 km
Map of Route:
click here to open a new window with a map of the route between the venue (FAO) and Hotel Santa Prisca

---

HOTEL LANCELOT

telephone

fax

e-mail

website

Via Capo d'Africa, 47
+39 06 70450615
+39 06 70450640

URL

http://www.lancelothotel.com
Prices in Euro (breakfast included)
Single room: 105,00
Double room for single use: 140,00
Credit cards accepted
VISA - CARTASI - MASTERCARD – AMERICAN EXPRESS - DINERS
Bookings should be made by: September 25, 2007
Room availability for the Workshop
Single rooms: 7
Double rooms for single use : 6
Distance from venue:
1,2 km
Map of Route:
click here to open a new window with a map of the route between the venue (FAO) and Hotel Lancelot

---

HOTEL BLED

telephone

fax

e-mail

website

Via Santa Croce in Gerusalemme, 40
+39 06 7027808- 7027937

+39 06 86800124

URL

http://www.leonardihotels.com/
Prices in Euro (breakfast included)
Double room: 62,00 per person
Credit cards accepted
VISA - MASTERCARD – AMERICAN EXPRESS - DINERS
Bookings should be made by: October 1, 2007
Room availability for the Workshop
Double rooms: 10

Distance from venue:
2,9 kms
Map of Route:
click here to open a new window with a map of the route between the venue (FAO) and Hotel Bled

---

HOTEL DUCA D'ALBA

telephone

fax

e-mail

website

Via Leonina, 14
+39 06 484471
+39 06 4884840
http://www.hotelducadalba.com
Prices in Euro (breakfast included)
Single room: 145,00
Double room for single use: 165,00
Credit cards accepted
VISA - MASTERCARD – AMERICAN EXPRESS - DINERS
Bookings should be made by: October 1, 2007
Room availability for the Workshop
Single rooms: 2
Double rooms for single use : 2
Distance from venue:
3,1 kms
Map of Route:
click here to open a new window with a map of the route between the venue (FAO) and Hotel Duca d'Alba

---

HOTEL DOMUS AVENTINA

telephone

fax

e-mail

website

Via Santa Prisca, 11/B
+39 06 5746135
+39 06 57300044

http://www.hoteldomusaventina.com
Prices in Euro (breakfast included)
Double room for single use: 190,00
Credit cards accepted
VISA - MASTERCARD – AMERICAN EXPRESS - DINERS
Bookings should be made by: October 1, 2007
Room availability for the Workshop
Double rooms for single use : 5
Distance from venue:
1,0 kms
Map of Route:
click here to open a new window with a map of the route between the venue (FAO) and Hotel Domus Aventina

---



Bed and Breakfast Agencies

BED AND BREAKFAST ITALIA

telephone

fax

e-mail

website

Corso Vittorio Emanuele II 284
+39 06 6878618
+39 06 6878619
http://www.bbitalia.it

---

BED AND BREAKFAST ASSOCIATION OF ROME

telephone

fax

e-mail

website

Via A. Pacinotti 73
+39 06 55302248
+39 06 55302259
http://wwwb-b.org
WORKSHOP SECRETARIAT
Catherine Bosio
ISTI-CNR, Pisa
Tel: +39 0503152912
Fax: +39 0503153464
Email: catherine.bosio@isti.cnr.it


top page